I think I have oily skin and some days, I think it's combination skin? What exactly is my skin type? Do you ever feel this way?
Most people have different skin type; oily, dry, combination and Normal. The condition of the skin can be affected by factors such as genetics, hormones, stress, weather climate, food, and dehydration.
Knowing your skin type can help towards achieving a healthy skin, in terms of the skin products to get and how to use them. One of the best ways to take care of your skin is to stay hydrated. Aim for between 7-8 glasses of water a day as water can help fight skin problems and improve skin complexion.
I hope this helps determine your skin type. If you read this and still cannot tell what your skin type is, the next thing is to take some skincare quiz online or see a dermatologist to assist with that.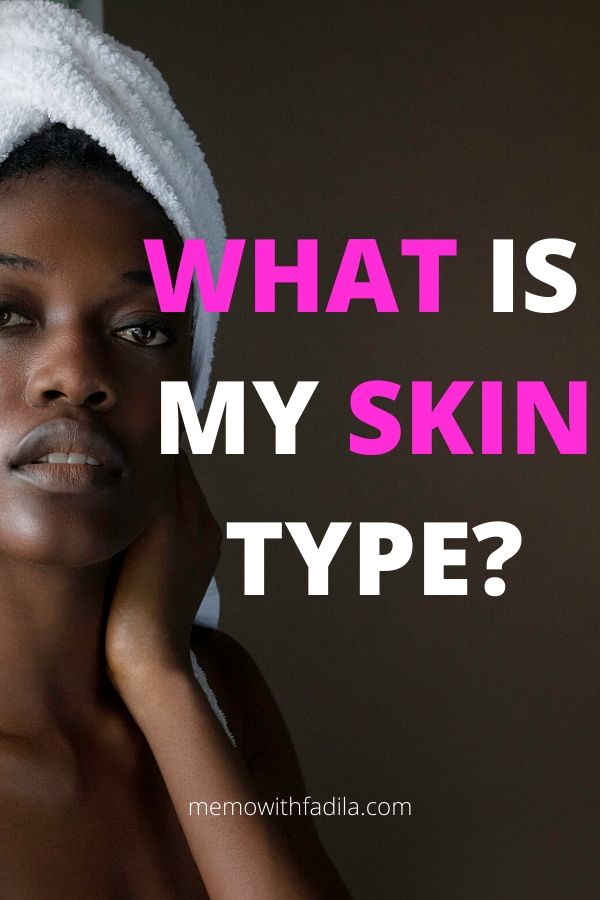 What is my skin type?
Skin type 1 – Oily
As the name implies; is a skin type that has excess oil which causes the skin to be shiny and greasy. You can see how oily your face looks just by looking down at the nose. After wearing your makeup, you keep using blotting sheets or touching up your makeup after a short while.
Signs to know you have an Oily Skin
The skin shines all day; with or without make-up
Large pores
Breakouts – Blackheads, pimples and acne
How to take care of oily skin
The best care you can give an oily skin is to incorporate a simple skincare routine. Gently cleanse, moisturize and exfoliate, once a week. Avoid over-exfoliating so as not to strip the face of its natural state – the oil on the face has its benefits. The thought of skipping your moisturizer might come to mind, instead of doing that; a light moisturizer is recommended.
Skin type 2 – Combination
This skin type can be confused with oily skin because they have the same features. Combination skin is partly oily and dry or normal. The face is a typical example where the t-zone (forehead, nose and chin) is oily and dry cheeks.
In as much as this can be hereditary, it can also be caused by using harsh products that cause the skin condition to fluctuate.
Signs to know you have a combination Skin
Shiny T-zone (forehead, nose and chin)
Large pores
Dandruff, as a result, the dry area
Breakouts
Dry/normal cheeks
How to take care of a combination skin
Gently exfoliate the skin once a week to remove dead cells. Avoid skincare products with an overwhelming fragrance and too many ingredients. It's best to use hydrating moisturizers to keep the face hydrated and to balance the oily and dry parts.
Skin type 3 – Dry
This type of skin produces less oil than the skin needs to retain moisture. Dry skin can be caused by over-cleansing with harsh products or over-exfoliating because it can strip the skin of its natural oil which makes it difficult to replenish.
Signs to know you have a Dry Skin
The skin feels tight and dry
It could be itchy due to its dryness
Dull appearance
How to take care of dry skin
Stay hydrated and be consistent with your skincare routine. Cleanse with mild cleanser, morning and evening. Get a serum for your skin type, use hydrating moisturizer and lastly, use a sunscreen.
Skin type 4 – Normal
It's neither dry nor oily. The overall complexion looks good, balanced, which is why it's called a normal skin.
Signs you have a normal skin
You have small, fine pores
Hardly breakout
Skin texture is smooth
How to take care of normal skin
It requires care to maintain it. Lack of care can change the condition of the skin. Cleanse morning and night to remove dirt. Use a moisturizer to keep the skin moist all the time, wear sunscreen to prevent direct sun exposure.
What say you?
Can you tell your skin type? Let me know what you think?
Yay! Happy you made it here this far. Do you like this post? Share your thoughts in the comment section. Pin this post to your Pinterest and share on Facebook. Subscribe to the blog if you haven't done so. Thank you again and see you in my next post.