Let's talk about that time of the month, Shall we? How do you deal with menstrual/period cramps?
Whether at work or school, I'm sure you know that feeling when Aunt Flo is on her way, you start to worry about how to manage the pain and to top it all, premenstrual syndrome (PMS) could kick in.
I went all of a sudden, from having what I called "normal cramps" to severe pain, and guess what, I only feel this pain for one day out of a 3-5-day period. When this happens, the only thing I want to do is 'absolutely nothing' and just lie in bed.
My prayer point every month is for my cycle to fall on a weekend when I don't have to go to work, so I don't transfer my aggression to someone as I can get very cranky. Unfortunately, this prayer might not get answered, so I figure out how to deal with my menstrual cramps.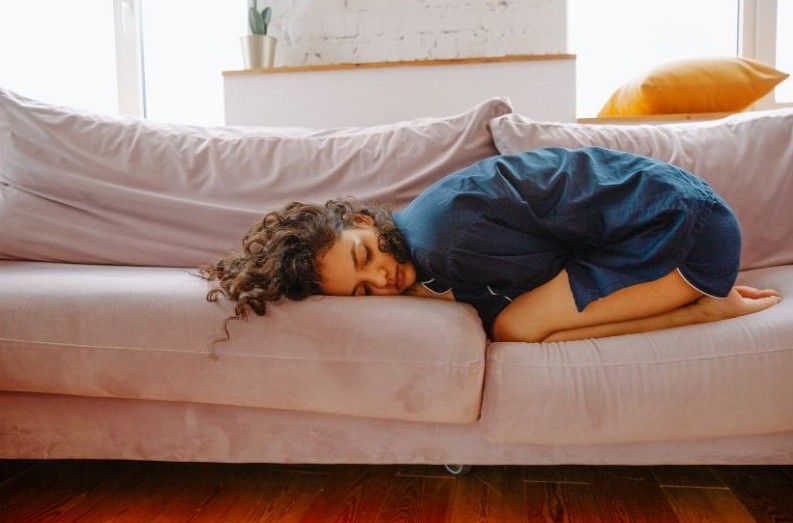 What happens at this time of the month?
The muscle of the womb contract to help shed the lining of the womb. It could cause discomfort to our lower back or thighs or around the abdomen.
According to Healthline, a hormone called prostaglandin triggers muscle contractions in your uterus that expel the lining. These contractions can cause pain and inflammation. The level of prostaglandin rises right before menstruation begins.
About 80% of women suffer from mild to severe cramps with a lot starting from a teenage year up until menopause; the pain could sometimes be unbearable at that time of the month.
Symptoms
Menstrual cramps can be physical and mental. Some of the symptoms include headaches, dizziness, feeling tired, pimples, feeling bloated, mood swings, trouble concentrating, and sweaty at night. While some might experience all or some of these, others might experience none; it varies from person to person.
How to Deal with Menstrual Cramps – 6 Tips
These tips might not help you stop menstrual cramps forever but could help to relieve the pain.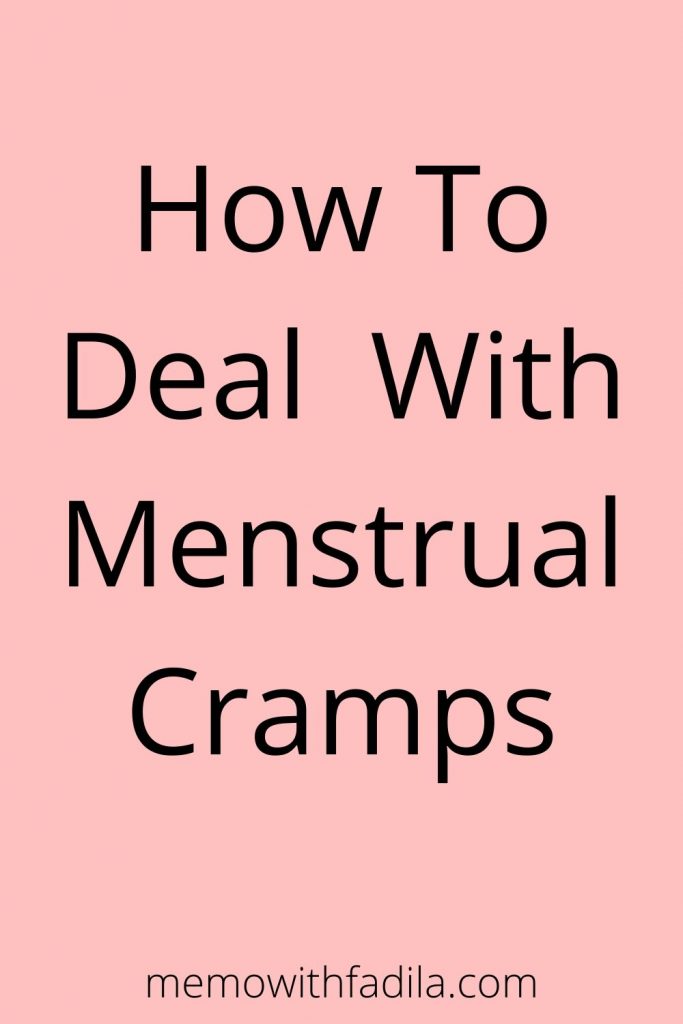 1. Exercise
You may not feel like it, but exercise is known to help prevent or reduce cramps. You can incorporate exercise in your weekly routine as studies have shown that women who exercised regularly have less period pain. What are you waiting for, let's do this.
2. Rest
You have to listen to your body if you're not up for that exercise, PLEASE REST. Try to get important things done before this time or postpone anything that can't be done because It could be uncomfortable for you.
Do not forget to plan, so you don't get caught unawares.
3. Stay hydrated
Weakness is common during your period as this is due to the loss of blood, which can cause dehydration, so staying hydrated is very important. If you don't like the taste of water, change the taste by spicing it up. You can add lemon, cucumber, or any fruit of your choice.
You might be wondering why I didn't mention tea or coffee, right? Well, it could make the pain worse, so you might want to swap for caffeine-free beverages.
As much as I love tea, I try to stay away from it at this time of the month for the first two days. I love the feeling I get when I drink water during this period, it tastes better (I know water has no taste), but you know what I mean
4. Hot water bottle or Heating pads
If you like it hot, why not try it? You can apply heat on your lower belly/ abdomen or lower back to help relieve the pain.
5. Painkillers 
There's a reason why this is my no 5 – this is me avoiding painkillers. I choose this option as a last resort when every other thing fails. I usually take Paracetamol and then graduate to Ibuprofen, it depends on how severe it gets.
6. Consult your doctor
If it gets worse or you're bleeding heavily, this is where you want to talk to your doctor.
On a lighter note
Don't forget to stock up on Sanitary protection; Tampon, Pad, or Menstrual Cup whichever is preferred.
What Say You?
I'd love to know your take on this and possibly learn new tips.
Next Stop
Check out my post on how to stay motivated when working from home, 15 Fun facts about me, 5 best drugstore face masks, or how to stay calm when stressed
Yay! Happy you made it here this far. Do you like this post? Share your thoughts in the comment section. Pin this post to your Pinterest and share it on Facebook. Subscribe to the blog if you haven't done so. Thank you again and see you in my next post.