Hello and welcome to my first blog post! I finally did it! I stopped procrastinating and hit the publish button. This is me breaking the ice with 15 fun facts about me and introducing myself with these "get to know me" questions.
I was asked this question in my virtual team meeting, recently, (no thanks to the lockdown). These facts will be shared in the next meeting so other people could guess whom the facts belonged to as it was a way to get to your team members better. I never knew how daunting it would be, at some point, it felt like I was writing an exam or at an interview unprepared. That moment challenged me as I had less than 24 hours to come up with these facts.
I find it difficult to say so much about myself in person (I hope I'm not the only one who feels this way). Let's get to know one another, shall we?
Fun facts about me
1. The meaning of my name Fadila (Pron- Fa-dee-lah) is Virtue.
2. My first job out of secondary school was as a vaccinator for a local health center; going from house to house to administer oral polio vaccine to children to help eradicate polio in Nigeria.
3. I can't bake, but I'm proud to say I'm learning how to.
4. I watched Wizard of Oz while growing up and for a long time, I never understood why I thought about the wizard flying whenever lights were off.
5. My favorite color is blue. Not sure why I like blue…maybe, it's because most of my clothes are blue (different shades of blue) from scarves to footwear. When people ask me what my favorite color is, the first thing that comes to mind is blue.
6. I love watching Bollywood movies. I remember the likes of Mard, Ghazab, Teri meherbaniya, Toofan and many more.
7. My best time to shop is mornings. Mostly, on my way to work when there's hardly anyone in there. I don't like shopping when it's crowded, I get tired.
8. When I type, I often like to use three dots…which means that I have so much to say but cannot put it into words or am too lazy to type.
9. I tried Kiwi (fruit) for the first time last year, no regrets. 
10. Biggest fear – Exams. The thought of it makes my stomach rumble. Not sure how I passed my bar exam but I am thankful.
11. Barcelona is the only football club I trust to score a goal in the 89th minute. I enjoy watching their games, especially the passes.
12. Apart from the United Kingdom, I have only been to Dublin, Ireland. The next country on my mind is Spain. 
13. I prefer flats to heels. I only wear heels to increase my height when I am standing next to my husband.
14. My meal isn't complete without a cup of tea.
15. I love rice; any kind of rice as long as it is not soggy, count me in any day.
Tips on how to write interesting fun facts about yourself
I hope the following examples of icebreaker questions would help you to come up with your own "fun fact and "get to know me" questions and answers. Remember to always keep it short and sweet, yes, it is about you, but they don't want you going on about yourself all day.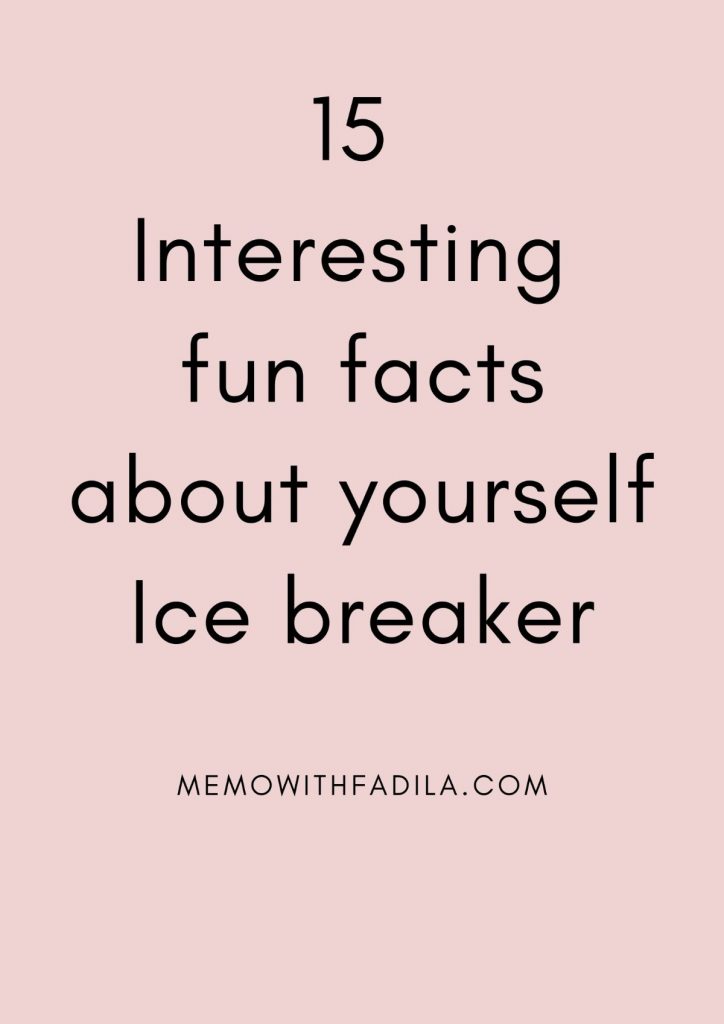 What 3 things can you not live without?
Are you superstitious?
What TV series have you binge-watched recently?
If you were to choose a superpower, what would it be?
What is your favorite holiday destination and when was the last time you were there?
What was your nickname growing up?
British or American accent?
What food would you never be seen eating?
Describe a day in your life.
What is your favorite music genre?
The most embarrassing moment you've had (only share this if you are over it).
If you were to live in one place forever, where would it be?
what is your greatest fear?
Give one example of an unusual thing you did after a drunken night out.
What was the last book you read?
Now your turn
After coming up with my facts, I realized there was a lot I could come up with, I just needed to think more and put them into words. I hope I have been able to help you come up with your own "fun facts" and "get to know me" questions.
Use these among your friends, when you meet someone new or with your colleagues at work. Always have that one fun fact ready for that next job interview.
 It's your turn, yes you. Tell me one interesting fun fact about you. Inquisitive minds want to know.
Yay! Happy you made it here this far. Do you like this post? Share your thoughts in the comment section. Pin this post to your Pinterest and share it on Facebook. Subscribe to the blog if you haven't done so. Thank you again, see you in my next post.  
More posts you'll love
WAYS TO SHOW APPRECIATION TO PEOPLE
HOW TO TIGHTEN NECK SKIN AT HOME – 3 EASY STEPS