Our work tends to take an enormous part of our life. Most people work Monday-Friday just to put food on their table. You also find some people that work almost every day of the week, no time to rest. Here, Eleven (11) examples of how you can achieve a healthy work-life balance.
A healthy work-life balance might not be achievable in a life where nothing is certain; things change, and this could be in the workplace or at home, family, relationships which is why we need to improve on balancing work and personal life. 
Most times, I moan about how the weekend is too short, it goes so quick, especially when I have had so much to do. I feel work-life isn't balanced when you compare the amount of time you spend doing work and the time you get to yourself.
We need to do a better job of putting ourselves higher on our own 'to do' list." ― Michelle Obama

Work-life Balance Quote
The importance of work-life balance
Maintaining a healthy work-life balance is essential for our well being. If your mental health isn't intact, then you can't have an ideal work-life balance which will yield productivity at work.
How to achieve a healthy Work-life balance for you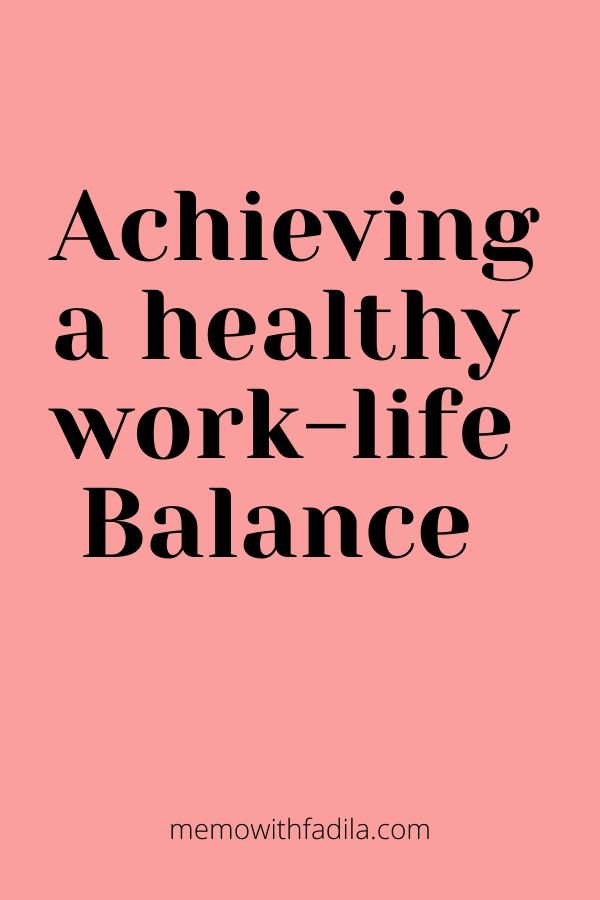 If you're looking for ways to achieve a healthy work-life balance, I hope you find these helpful.
1. Time
Time, they say waits for no one. If we're able to manage our time, we will able to accomplish more in a short period. Keep track of your time by keeping a log of your activities. This will help you know when you're running out of time or when spending your time well.
2. Better Sleep
Sleep is vital to our health. Everyone needs a certain amount to sleep to help the body function well, which will help to improve a healthy work-life balance. Having a good sleep, you feel refreshed and ready to carry on with the tasks ahead.
3. Health
Our health is paramount. We need to take it seriously as it's good for our physical and mental wellbeing. You need to listen to your body, if you notice anything different, speak to a medical professional.  
Engage in exercises; take a walk, dance, simple stretches or move around.
4. Ask for help
I know we want to get things done ourselves, but it is also allowed to outsource some tasks sometimes. Depending on where you are; whether at work or home, you will have more time to do other things when you outsource. Do not be engrossed with everything, all you have to do is ask for help, and you will be amazed at that people are ready to help.
5. Take time off
Taking time off work is very important. You need to take a break from work to rest, and you can start by taking regular breaks at work; move around to help improve your state of mind.
The other type of break is taking time off work. We have got leave entitlements for a reason; make good use of it to take proper care of you and if you're self-employed, take some time off too.
I know you might be saving it for a perfect holiday, but taking a few days off in between would do your body a lot of good. Self-care is KEY.
6. Leave work at work
Except you are working from home, it is best to leave work at work. Do not bring work home, try as much as possible to get your tasks done, so you don't have to take it home. It might be difficult, but this is you trying to maintain a healthy work-life balance, and you can't achieve it by bringing your work home. Work and life needs to be balanced.
If you are working from home, it's good to have a designated time to work as you can get carried away because of the home comfort. Whatever time you set aside for work, ensure that you make good use of it, have your workspace and clear your desk when you finish. Then have the remaining time to do non-work-related stuff which is one the benefits of working from home – to maintain a healthy work-life balance.
7. Set boundaries
Setting boundaries is a skill we all might not possess, so we have to learn it. It can be challenging and might be new. One of the ways to set boundaries is by knowing where you stand in terms of your capability. It's good to know when to stop, and you can do this by understanding when you're stressed or uncomfortable.
8. Connect with family/friends
There's this satisfaction I get after speaking to my loved ones when I'm feeling down.  Family and friends have a way of making you feel better. You don't need to have a large circle of friends; it can be just one person you feel comfortable speaking to. Nurture your relationship, so you know it's there when you need it.
9. Set goals and simplify it
Decide on what you need to do, write it down or speak to someone about your goal so that you can actualize it. It can also help to simplify your tasks to make them achievable. You can start by waking up early so that you can get most of the tasks done at your pace. You can have a list of what needs to be done.
10. Prioritise
We all get overwhelmed with so many things to do and don't know how to implement it. What causes us to feel this way is the fact that they all seem to be at the top of the list. So, the only way to figure out how to start is to prioritise.
It's best to have your tasks in order of importance. Make a list of what you want to get done for the day and have them grouped in sections of urgency and be realistic when doing this.
11. Reflect on your actions
Spend some time to think about what you've done and how you can make it better. Few questions to ask yourself;
What am I doing?
Is there anything I can do differently?
What can I do more?
Is it realistic?
On a lighter note
There're so many ideas to manage or improve work-life balance, but we just have to start from somewhere. Try not to get overwhelmed with everything. It is best to acknowledge your capabilities. You can be flexible some times as long as you stay true to yourself. The idea is to have a balanced work and life.
What say you?
How do you manage a healthy work-life balance? We'd love to know your tips and tricks.
Yay! Happy you made it here this far. Do you like this post? Share your thoughts in the comment section. Pin this post to your Pinterest and share on Facebook. Subscribe to the blog if you haven't done so. Thank you again and see you in my next post.