What things do you do when you're bored? There are fun activities to do when stuck indoors such as stress relief activities, organizing activities to pass the time, and outdoor activities to do when you're bored.
What does it mean to be bored? To be bored means to be in a state of boredom; not having anything to do. Boredom, according to Merriam-Webster dictionary, is the state of being weary and restless through lack of interest.
I have substituted the word BORED for LAZY in my dictionary (lol). I can do so many things, but I feel lazy to do them. Guess it's because I try to do everything simultaneously and end up not doing anything at all. 
"She refused to be bored chiefly because she wasn't boring."
― Zelda Fitzgerald
I've gathered some ideas for you to try when next you're feeling bored or stuck at home not knowing what to do.
As an affiliate, I earn from qualifying purchases at no cost to you. Please see the disclosure here.
Things To Do When You Are Bored (19)
1, Pamper yourself with a nice spa session. This can be done in the comfort of your home; manicure or pedicure, apply a face mask, or take a bubble bath.
2. Make your home a movie theatre. You can do this by getting an affordable projector like (Vankyo which has different models), a wall you can project on and you are good to go. I enjoyed binge-watching the Game of Thrones in my home on a big screen.
3. Declutter your phone. Look through old photos and videos.
4. Learn a new language. There are different apps like Babbel, and Duolingo, which you can find on Google Play Store or Apple Appstore. Take up the challenge because it might be useful when you travel on holiday.
5. Watch classic movies. It doesn't just pass the time; it will bring back some childhood nostalgia. An example could be a film you watched while growing up. I do that sometimes because it takes me back to the good old days (don't I just sound ancient).
6. Organise your home. There are so many tasks you can do in your home, depending on how it is. Do the dishes, clean the windows, and clean your oven. Doing simple tasks; like this can light up your mood and pass the time.
7. Clear out your inbox. Your inbox must have been overloaded with emails. Check for those old emails you know you will never need and press delete on all of them.
8. Learn new dance moves. Yes, you can do it, So get your dancing shoes, and watch YouTube videos to learn different moves. With this, you are achieving two things; getting rid of boredom and exercising.
"There are no uninteresting things, only uninterested people."
― G.K. Chesterton
9. A good time to meditate. This will guide you to practice mindfulness so watch videos; listen to calming music to help with this process. There are loads of apps you can download on your phone or tablet to help with this.
10. Listen to podcasts. They are conversational and you can listen to podcasts anywhere. Just in case you get bored with your playlist, try listening to podcasts. There are a lot of podcasts on Spotify to choose from.
11. Clean out your makeup purse. When was the last time you washed your make-up brushes or purse? Now is a good time to do so as you will feel a lot better when next you use them.
12. Go for a walk. Walking will boost your mood and help clear your head.
13. Listen to music. It's good for the soul.
14. Organise your wardrobe. Empty and clean your wardrobe, and rearrange your clothes by categories. I arrange mine according to the weather.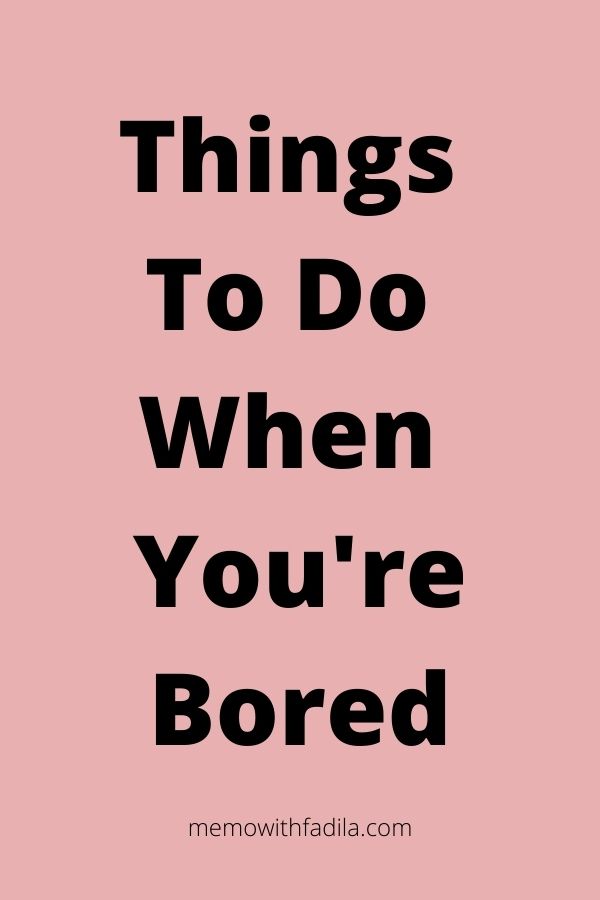 15. Download and listen to audiobooks. It can be educational, entertaining, or instructional. The good thing about audiobooks is that you can listen to them everywhere when you go out for a walk, while indoors doing chores, or even when out for a drive. 
16. Learn something new. It can be sewing, knitting, blogging, or whatever interests you. Try doing some research or watching YouTube videos where I am sure you will find some inspiration. You can also speak to friends that have similar skills to help you on this journey.
17. Play Scrabble online. You play with friends or even with other people online.
18. Try new recipes. If you're tired of the same old recipes, now is the time to try new recipes, spice things up, and create a nice meal. Time will go so fast because you will enjoy making it. So, relax and enjoy a home-cooked meal.
19. Make a list of things to do. It's a good time to reflect on something productive, in terms of self-improvement.
What say you?
What random things do you do when bored? Feel free to share them.
Yay! Happy, you made it here this far. Do you like this post? Share your thoughts in the comment section. Pin this post to your Pinterest and share it on Facebook. Subscribe to the blog if you haven't done so. Thank you again and see you in my next post.