Superdrug Vitamin E hydrating mist! Before I jump into the review, let me tell you about my struggles when it comes buying skincare products.
Whenever I want to get a new skincare product, the first thing I do is search for other users reviews on the product; I also watch YouTube and spend time at the shop because I can't decide. You know why? Most of the adverts I see don't show women of colour using them. All you hear is "it works for all skin types". Majority of the time, I go with my instincts; what we call TRIAL AND ERROR.
One of the things I look out for is the PRICE. The reason I do is so that if it doesn't work for me, I wouldn't feel hurt too much because I didn't pay too much for it and if it works, then I'll keep buying. Who doesn't love a good bargain?
Secondly, I check the ingredients. I go for skincare products with fewer ingredients because I don't want my skin to react to something I am not familiar with and lastly, I only buy what my skin needs
As an affiliate, I earn from qualifying purchases at no cost to you. Please see disclosure here.
SUPERDRUG VITAMIN E HYDRATING MIST – REVIEW
The first thing that attracted me to this product is the Vitamin E, boldly written on the bottle. Vitamin E is a powerful antioxidant and anti-inflammatory that helps to reduce free radicals. It's also known as a refreshing toner mist.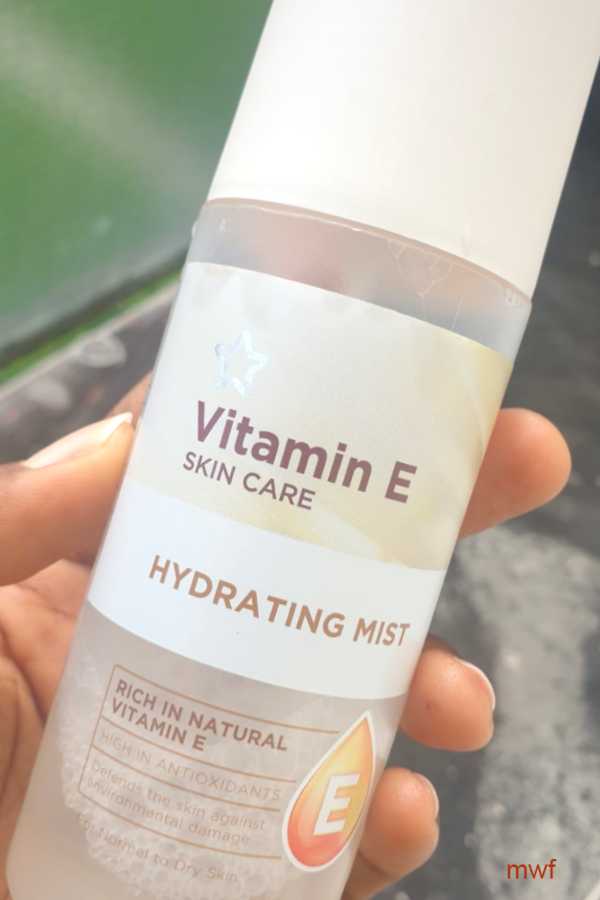 My take on this
It's cheap (haha) and smells good too. I'm not used to spraying my face with anything, but I enjoy spraying my face with this hydrating mist. It is a bit sticky when sprayed at first but, absorbs quickly and lasts long for at least 4-6 hours. It leaves my skin looking fresh even after a long day.
I use this mist as part of my morning skincare routine to work, and when I get back from work, my face looks the same as it was in the morning. To be used as a toner as well as a setting spray. I can't say how much of a toner it is, but it's super hydrating – which is the job I needed it to do. And I use it during winter without wearing makeup.
It's perfect for combination and dry skin.
Recommended
Superdrug Vitamin E Hydrating Mist – £3.99
What say you?
What's your favourite Vitamin E product?
Next Stop
Check out my post on simple exfoliating face scrubs, benefits of skin exfoliation.
Yay! Happy you made it here this far. Do you like this post? Share your thoughts in the comment section. Pin this post to your Pinterest and share on Facebook. Subscribe to the blog if you haven't done so. Thank you again and see you in my next post.