It can be hard waking up as early as 5 am but can change your life in so many ways, positively. They say "successful people wake up early", who wouldn't want to be successful?
I am a morning person; that's my best time to be productive. I love getting things done in the morning. To achieve this, I go to bed on time so I can wake up early; pray, shower and I have a cup of coffee or tea.
There's this satisfaction I get after having a productive morning because it gives me the zeal to keep going – that way, I know I'm on the right track. I also have enough time to myself (we all need that time to ourselves, sometimes).
Can Waking Up At 5 AM Change Your Life?
Here's how to wake up early and not go back to bed.
1. Have a goal
You should have a purpose for waking up early because you wouldn't want to wake up for the sake of it.
Set a goal for yourself if you don't have one already. It can be anything, as long as it's what you want. If your goal is to start waking up at 5 am, you never know, that could be the starting point for you.
Ideas
Learn new skills.
Think about what you've always wanted to do but no time to implement it.
Apply for jobs.
Get yourself prepared for work; so you don't get late to work.
2. Early bedtime
If you want to know if waking up at 5 am can change your life, then going to bed early is a good start.
There's a saying, early to bed, early to rise. For you to wake up early, you need to inculcate the habit of going to bed on time. Sleep; as you know is vital. You need to get enough sleep as it promotes good health and well-being.
3. Set your alarm
Do not hit snooze, dismiss it and get up. Yeah, it's easier said than done. If you keep hitting the snooze button, you will defeat the purpose of the alarm, which is to wake you up at a specified time.
Your alarm should serve as a starter, not dessert (metaphorically speaking).
4. Stay away from your phone
Hmm…That can be hard to do, but it's just for a while to enable you to get up quickly. The purpose of having your phone at that time shouldn't be for social media as that can take part of your time.
Once you start scrolling, you might get too engrossed and lose track of time. You know time waits for no one and remember you're waking up early to get things done and going through social media is not one of them.
5. Wash your face or have a quick shower.
Whichever it is you prefer, it will reset you immediately. You'll feel refreshed and ready.
6. Take a cup of coffee
Yesss! Way to go. You don't want to miss this part for anything. It will boost your energy levels and get you ready to start the day. If you aren't that into coffee, take warm water or tea (whatever works).
I'm sure you have digested how to wake up early, let's look at the benefits.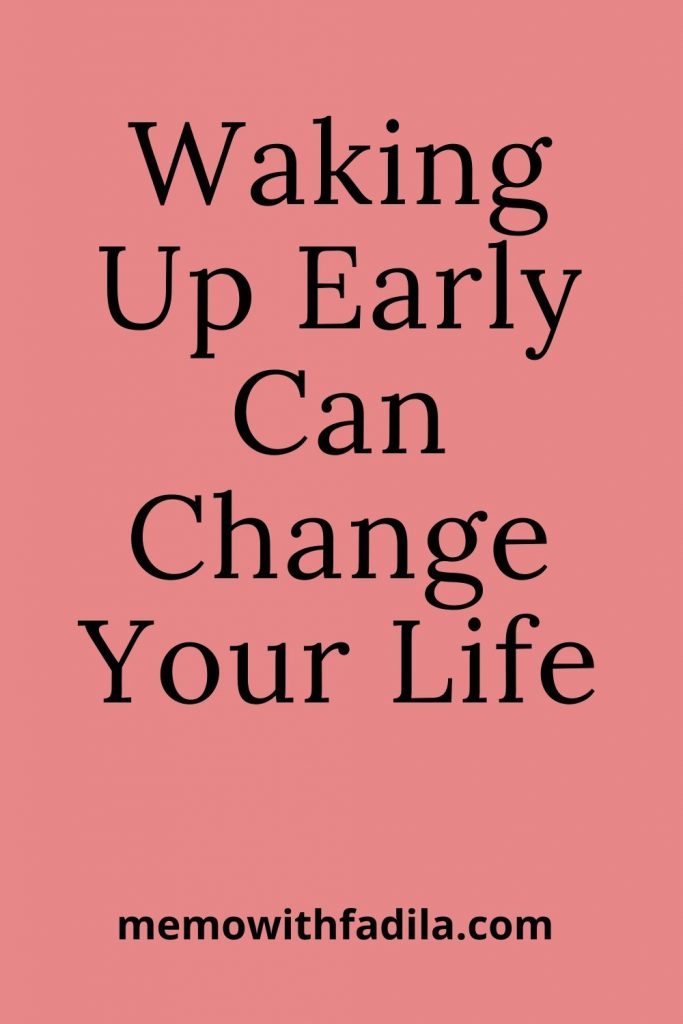 Benefits of Waking Up Early
Time to strategise; plan.
It puts you in a better mood to get problems solved.
Time for personal development; learn new skills, practice self-care.
You have more time to exercise.
Enjoy quiet time/meditate to improve your mental health.

You will have no excuse to miss breakfast

.
Suggestions to get you charged up when you wake early
Exercise; dance, stretch, take a walk.
House chores
On a lighter note
Waking up at 5 am, might not automatically change your life but can put you in the right direction. All in all, you have to do is listen to your body and rest when you need to.
Next Stop
Check out my on how to sleep better.
What say you?
Are you a morning person? If yes, how has it changed your life?
Yay! Happy you made it here this far. Do you like this post? Share your thoughts in the comment section. Pin this post to your Pinterest and share on Facebook. Subscribe to the blog if you haven't done so. Thank you again and see you in my next post.